Brady Runs the "Lombardi Toss" Play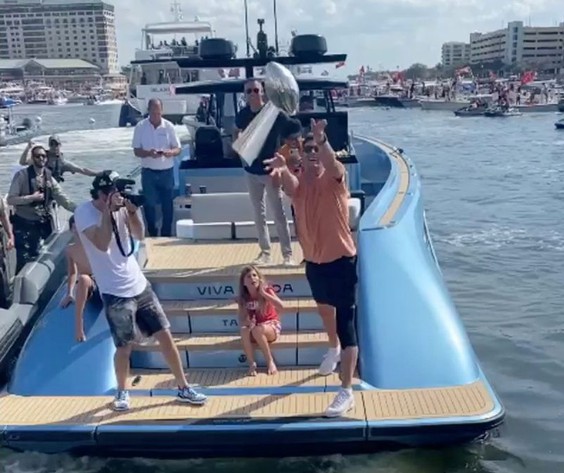 Tom Brady won his sixth Super Bowl championship on February 7, 2021. Brady led the Tampa Bay Buccaneers to a win against the Kansas City Chiefs. This was an extremely significant win for Brady since he recently transferred from the New England Patriots to the Tampa Bay Buccaneers. It also solidified his status as one of the best players of all time for many football fans and enthusiasts.
However, since this transfer, Tom Brady's image has softened a bit. It now seems that the world is seeing a new side of Tom Brady. After the Super Bowl win, there was a boat parade to celebrate. At this parade, Tom Brady threw the Lombardi Trophy from one boat to another. Some believe that Brady was intoxicated and attribute this change in behavior to the recent change in coaching. Brady's old coach, Bill Belichick, was known for being extremely serious and rigid with his player's image. However, Tampa's head coach, Bruce Arians, seems a bit more laid back.  
The image of this "new" Tom Brady went viral.  Saturday Night Live even parodied him at the iconic Weekend Update desk. Brady received backlash for these actions, demanding that he apologize. Even the daughter of Greg Gohs, the man who made the Lombardi trophy, wanted him to apologize for his behavior.  
Brady is not the only person who has played around with the Lombardi trophy. After Super Bowl LIII, Brady's teammate Rob Gronkowski  also made headlines with his misuse of the iconic trophy. He pretended to use the trophy as a bat at Fenway Park and made a dent into the trophy. Gronkowski even said that after the recent Super Bowl win, he didn't touch the trophy.
Tom Brady has been playing in the NFL for 21 seasons. With a total of 344 games under his belt, he has created quite a name for himself. Still, Brady wishes to play until he is 45, so the world will hold its breath to see what he will do the next time he wields the Lombardi Trophy.