The Greatest Show On Earth Wows On Big Screen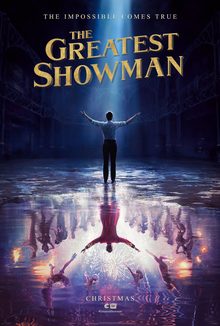 "The Greatest Showman" is an original movie musical about Barnum & Bailey's Circus co-founder P.T. Barnum's journey to success in show business. Barnum, portrayed by Hugh Jackman, attempts to find his passion as he makes an investment in an empty building that later transforms into "The Greatest Show On Earth." The show features individuals with unique talents, including a woman with thick facial hair, a man with tattoos covering his entire body, and trapeze artists. The musical depicts these characters as relatable, allowing the audience to realize important lessons of self-acceptance. Succeeding in portraying its themes, the musical, in addition to its creative characters, teaches an essential lesson about never giving up. Barnum faces several obstacles along his journey, and it is his perseverance and passion for the show he molded that motivates him to move forward.
The outstanding messages that "The Greatest Showman" provides are only further validated by its soundtrack, produced by the tandem of Greg Wells, Justin Paul, and Benj Pasek. Winning a Golden Globe for Best Original Song this year, "This is Me" supports the idea that every person is special in their own way, as our mothers would say. The song, below, depicts our battle against society for acceptance and our ability to finally take a step back and realize, as the song eloquently preaches, "I make no apologies, this is me." Other songs include "A Million Dreams", featuring Barnum's vision of his brilliant future, "Never Enough", provoking thoughts on love and commitment, and "Rewrite the Stars," highlighting two characters as they profess their controversial love for each other. I have spent many car rides listening to these songs, at maximum volume, because it is the type of music that brings peace to your soul and joy to your heart with its catchy patterns, numerous life lessons, and beautiful lyrics.
Atlantic Records
"The Greatest Showman" is an important movie for all people in this day and age to see. As our world continuously struggles to find equality, this musical reminds us that no matter what, we must stay true to who we are meant to be, while understanding differences, overcoming prejudices, and accepting one another with open minds and open hearts.
5/5 Feathers