Alumni Jazz Band Concert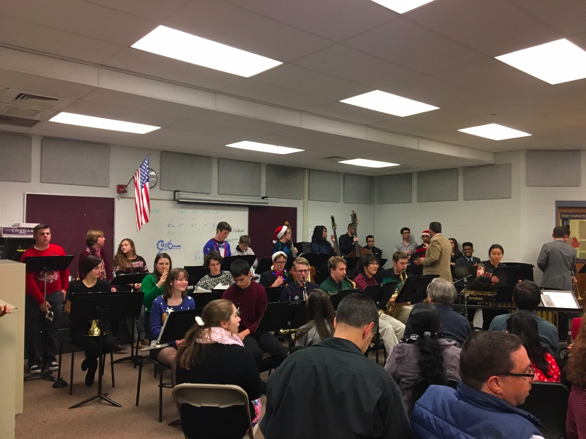 On December 20, Mr. Earl Philips, Cherokee's Jazz Band director, put together a concert featuring his current jazz band, along with an alumni band consisting of a variety of his past students from his last 10 years at Cherokee. The jazz bands of DeMasi Middle School and Marlton Middle School, and Mr. Phillips' Jazz Improvisation class performed along with these bands. With musicians ranging in age from 11 to over 40, the band room was full of awe for the art of jazz music and of spirit for the approaching holidays. The Nutcracker Suite by Duke Ellington was performed by the Cherokee Jazz Band and the Alumni Band, side by side. The two bands went back and forth in playing the movements while celebrating the beauty of the program at Cherokee and their common passion for music. The band room was packed with people eager to hear the bands and see old friends, and eventually there was standing room only. This was an amazing opportunity for Mr. Earl Phillips who revealed that this night held some of the best moments of his professional career. For one night, he was able to see all of his arduous work over a decade shine beautifully while simultaneously uniting the past, the present, and the future of the Cherokee Band through their common love for jazz.
Cherokee Jazz Band Showcase featuring our incredible alumni. Under the direction of Earl Phillips. Standing room only, extraordinary music.
Welcome back Chiefs🎼🧡 pic.twitter.com/q3M7of0a6g

— Always_a_Chief (@Cherokee_HS) December 21, 2017
Cherokee Jazz Band
Trumpets (from left to right): Joe Bednarek (senior), Gillian McGovern (junior), Grace Fox (sophomore), Josh Free (freshman), and Jordan Stein (freshman).
Mellophones/Trombones (from left to right): Noel Warchol (junior-mellophone), Carly Morton (senior-mellophone), Ethan Yeany (senior-trombone), and Justin Farquhar (sophomore-bass trombone).
Woodwinds (from left to right): Emily Paluba (junior-flute), Alex Kaup (junior-tenor sax/clarinet), Gavin Ritter (sophomore-alto sax/clarinet), Matt Goffin (junior-alto sax), Tae Kim (junior-tenor sax), and Bailey Trace (senior-bari sax).
Rhythm section: Zhudi Pan (junior-vibes), Aayushi Parikh (junior-piano), Jim Fell (junior-upright bass), Simar Kareer (senior-drum set/auxiliary percussion), and Bryana Crockett (junior-drum set/auxiliary percussion).