Ed Sheeran's 'Divide' Multiplies Fan Base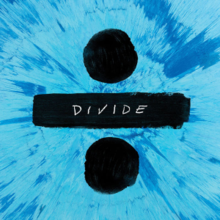 After taking a year off, Ed Sheeran finally stepped out of the shadows and into the limelight. The singer made a shocking comeback by releasing two new singles at once. These songs soared to the top of the charts before he released his new album, Divide. This album helped Sheeran add to his already growing fan base. On March 3rd, he released both the standard and deluxe versions of his album. Knowing Sheeran, fans expected nothing but lyrical genius from him.
The album starts with a track called "Eraser". Every verse on this song is powerful and heartfelt. He uses the analogy of a "pain eraser". Sheeran explains what he does to overcome his pain and lead a life of happiness. He talks about his struggle and how he likes to take a step back and evaluate his life every once in awhile. The next track is called "Castle on the Hill". This song talks about his childhood. He sings about his home and his friends. This song is a glimpse into Sheeran's past before he gained fame. From there, the next track is "Dive". He talks about taking risks for love. His next song helped his album gain momentum. "Shape of You" is full of pop-beats and has a catchy melody. "Perfect" is the track following "Shape of You". This track is classic Ed Sheeran. This is one of the more romantic songs off of the album. The next track is "Galway Girl". This song is different from any of his other music. Itunes describes it as "blurring the lines between Celtic folk and hip-hop". This upbeat song is followed by a wave of calm. "Happier" is about watching an ex move on but still holding onto hope. The next track is one that puts a smile on your face. "New Man" is full of hip-hop beats and lyrically brilliant verses. From there, the next track is "Hearts Don't Break Around Here". This track is pleasant to listen to. It is the kind of song that you become immersed in. Another catchy song follows "Hearts Don't Break Around Here". "What Do I Know" is a song that you can bop your head to. It's at a nice, medium tempo and the chorus is catchy and melodic. "How Do you Feel (Paean)" is a beautiful ballad with sweet lyrics. The next song is by far the saddest song on the album. "Supermarket Flowers" talks about the pain a person feels after losing a loved one. Sheeran talks about how their life should be celebrated and how the good memories should be remembered. "Supermarket Flowers" is the last song on the standard album. But, there are four extra songs on the deluxe album. They are called "Barcelona", "Bibia Be Ye Ye", "Nancy Mulligan", and "Save Myself". Each one of these are unique and they are worth listening to.
Divide is very different from Sheeran's other albums. This album has a happier tone when compared to his previous music. He has a more positive outlook on life. His optimism is shown through his positive lyrics and upbeat melodies. This album was a lot different than what I was expecting. Sheeran deviated from his usual guitar and loop pedal. He teamed with an Irish band on one of his songs.
These changes worked well for Sheeran. This album has a fresh sound. He exceeded my expectations. Even though it is different than his other music, the elements that make Sheeran's songs great are still present. He continues to have a mastery over lyrics and arranges gorgeous melodies. I think both old fans and new listeners should give this album a chance. The artistic choices that Sheeran made were fantastic. Even if you were not a fan of the singles, I recommend listening to the rest of the album. You may be pleasantly surprised by what you hear.
5/5 feathers