World Language Honor Society Inductions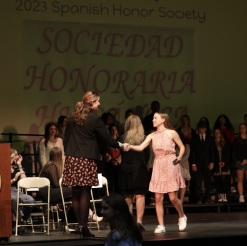 ¡Hola! Bonjour! Chiao! Hallo! On Thursday, March 9, several students at Cherokee High School were inducted into the World Language Honor Society. Here at Cherokee, six language classes are offered: Spanish, Italian, French, Russian, German, and Latin. The teachers who teach these courses go above and beyond to educate Cherokee students on the language they're learning and the culture that goes along with it. The results were demonstrated at the ceremony as 129 inductees were able to excel in class and make it to the honors society level. 
In order to be a part of the Language Honor Society, students had to obtain certain requirements. Depending on which language a student takes, requirements are varied. For example, if a student was taking Spanish, that student must have three semesters of A's in their language class in a row, and be in Spanish III or higher. However, if the student was in an honors Spanish class, then A's or B's were accepted. Ms. Guitterrez runs this very prestigious society, and students who are accepted have excelled in their language courses. 
During the ceremony, the Seal of Biliteracy was also given out to a few select students. This award means that students have passed the biliteracy test and are considered biliterate as they can fundamentally speak, understand, read, and write in two languages. This is the highest language award a student can receive at Cherokee. 
According to Alex Carcel ('24), "It was an honor to be inducted into the Spanish Honors Society, and it was nice to have my work recognized."
This event is truly something special as students are acknowledged for their hard work and dedication to learning their language. The devotion and sacrifice pays off tremendously as students develop a more worldly mindset. The World Language teachers at Cherokee have done a lot to help students get a better understanding not only of their language but also culture, comprehension and listening skills, and a more diverse frame of mind.