Cherokee's Annual Art Major Field Trip Gives Students a Glimpse into Art History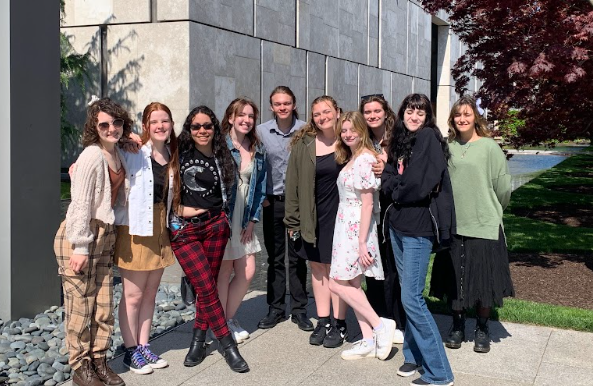 On April 20, Mrs. Guittar's Art Major class went on a field trip to the Barnes Museum in Philadelphia and saw hundreds of historic paintings that shaped art as we know it today. 
Art Major is a class offered to juniors and seniors who complete Foundations of Art and Creative Arts Media. Art Major allows students to create their own portfolios that can be submitted to colleges and increase their general knowledge in art and mediums they might not have had the opportunity to use before. This class is not just for people planning to major or minor in art in college, although many people in this class plan on having creative and artistic majors. 
This class of just over ten people got onto a bus and headed to Philadelphia. They stopped for lunch/brunch and then headed into the Barnes. 
The Barnes Museum is a collection of art curated by Dr. Albert Barnes throughout his life. This collection contains some of the most famous art that was painted primarily in the impressionistic, post-impressionistic, and early modern eras. Famous artists featured include Picasso, Matisse, Renoir, Modigliani, Cézanne, and Van Gogh. The collection also includes African Art, Native American art, local metalwork, and much more.
Students who went on the trip remember it fondly, including Keira Blank ('24) who enjoyed "seeing pieces that I've been seeing and studying for years in person."
Miranda Tubb ('24 ) said her favorite part was "getting to see all the pretty Renoir pieces." 
Sam Donato ('24), another Art Major student, found that "figuring out the symbolism of the paintings in each room" stuck out to her the most. She went on to explain that "each room [had] a theme and a certain way it was set up, and figuring it out felt like a puzzle."
Mrs. Guittar, who teaches Art Major, thinks this trip is extremely important for her students because "it's one thing to look at paintings in a book but another to see them in person. It is about the experience of being inches away from a painting that an artist, somewhere in time, was painting." The trip also educates her students on local history and the importance of art, since "Philadelphia was on the cutting edge of the art world early in the 20th century… Dr. Barnes was someone born and raised in the area and that his life is still having an effect on people today." 
Students interested in learning more about the Barnes Museum can go to The Barnes Museum's website. This trip is offered every year to the members of the Art Major class along with many other opportunities, so students interested in taking part in this class should email their guidance counselors or Mrs. Guittar.