"Best Believe She's Still Bejeweled": Taylor Swift Channels Her Past Selves on "The Eras Tour"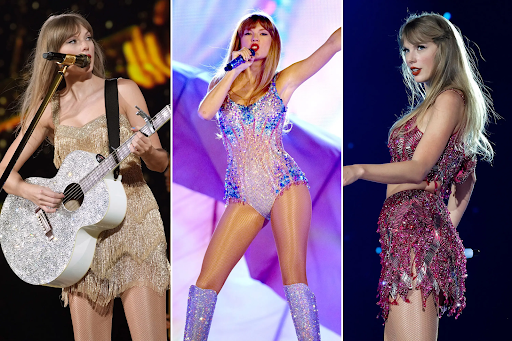 On March 17, Taylor Swift opened her sixth headlining concert tour with the words: "It's been a long time coming," and these words have never felt more true to her fans.
The "Swifties," a name used to refer to her fanbase, have waited five years to see the pop icon perform live after the COVID-19 pandemic caused the cancellation of her 2020 tour, "Lover Fest." Swift proves that the wait was worth it by rewarding her fans with an over 3-hour set that still doesn't manage to cover all of her greatest hits.
Those who were lucky enough to score tickets did not do so easily. When the first presale began on November 15, 2022, millions of fans visited the Ticketmaster website, causing it to crash. Despite long, often frozen, queues, 2.4 million tickets were sold during the presale. Due to the extreme level of demand for "The Eras Tour," the general public sale scheduled for November 18 was canceled. That day, Swift released a statement via her Instagram page, describing her disappointment and claiming that Ticketmaster had assured her that they could handle the level of demand she anticipated.
Swift is known for incorporating elaborate sets and costumes into her concerts, as seen in her 2018 "Reputation Stadium Tour," which was praised for its theatricality. She takes this even further with "The Eras Tour," which is performed in ten acts, nine of which represent an album and the corresponding era in Swift's career. The penultimate act is a series of two "surprise songs," usually fan favorites that had not been released as singles, expanding on a tradition established during the "Reputation Stadium Tour." Each act utilizes a different outfit and theme, often matching the color associated with that album, such as gold for "Fearless" or red for the album of the same name.
Although Swift's setlist contains 44 songs, some fans have criticized the lack of representation for certain albums, specifically fan favorite "Speak Now" and her 2006 debut, which is self-titled. "Enchanted" is the only song included from "Speak Now," while her debut single, "Tim McGraw," and the classic hit, "Our Song," were performed as surprise songs at the shows in Glendale and Las Vegas respectively. Surprisingly, Swift decided to perform 5 songs from her 9th album, "Evermore," which received the least promotion of any of her albums.
The city of Glendale, where both the "Reputation Stadium Tour" and "The Eras Tour" opened, was temporarily renamed in honor of "The Eras Tour," proving just how influential Swift really is. Effective on March 17 and 18, Swift City was declared the official name of the town. The tour continued in Las Vegas on March 24 and 25, and will span a total of 52 shows across the United States. International tour dates are expected to be announced as soon as an alternative platform for ticket sales is found.