The Crown Season 5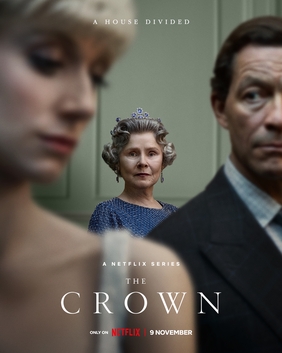 On Nov. 9, 2022, Season 5 of Netflix's hit TV series, "The Crown," was released worldwide. The biographical drama covers the life of Queen Elizabeth II from her wedding to Prince Phillip to current day. The season premiered with 107.39 million hours viewed during its premiere week and remained Netflix's number-one-watched show for two weeks.
The first season of the show was set between 1947 to 1955 and focused on various events during the queen's early reign. Winston's Churchill (portrayed by John Lithgow) retires as prime minister, Queen Elizabeth (originally portrayed by Claire Foy) ascends to the throne after the untimely death of her father, and her sister, Princess Margaret (originally portrayed by Vanessa Kirby) wades through her controversial love affair with divorcee Peter Townsend. 
The following season, set between 1956 to 1964, focused on Elizabeth and Phillip's (originally portrayed by Matt Smith) turbulent marriage, the birth of Elizabeth's sons, and Margaret's marriage to Antony Armstrong-Jones.
The following season was set between 1964 to 1977 and introduced a new cast to portray the aging royal family. Production had the opportunity to age the cast using special effect makeup, but they felt recasting would save them time and money. Fans were originally skeptical of the recast as they had fallen in love with Foy's portrayal of the Queen. However, people were left satisfied with Colman's performance and left a 90% rating on Rotten Tomatoes for the season. This season focused on Elizabeth's (now portrayed by Olivia Colman) 25th anniversary on the throne, various nations breaking away from the British Empire, and Prince Charles' (her son, then portrayed by Josh O'Connor) transition into adulthood.
The fourth season was set between 1979 to 1990. It primarily focused on Margaret Thatcher's (portrayed by Gillian Anderson) time as prime minister, Charles' turbulent marriage to Princess Diana (then portrayed by Emma Corrin), and Princess Margaret's (then portrayed by Helena Bohham Carter) discovery of close relatives with mental disorders.
Production decided to recast for this current season as well, which is set between 1991 and 1997. The new cast includes Imelda Staunton, who is best known for portraying Dolores Umbridge in the Harry Potter series, as Queen Elizabeth, Jonathan Pryce as Prince Phillip, Lesley Manville as Princess Margaret, Dominic West as Prince Charles, Elizabeth Debicki as Princess Diana, and Olivia Williams as Camilla Parker-Bowles. 
This season focuses on the divorce of Diana and Charles, Diana's controversial interview discussing her unhappiness in her marriage, and "Annus Horribilis." This term was coined by the Queen herself describing 1992 as the "worst year of her life," which involved Charles and Diana's separation, Prince Andrew's (her second son) separation from his wife, Sara Ferguson, and a fire that destroyed over a hundred rooms in Windsor Castle.
The season has received with extremely mixed reviews. Some critics praised Debicki and West's performances as their characters go through a difficult period in their lives. However, it was met with controversy when fans called for Netflix to label the show as a "fictional dramatization" due to accusations that various events in the show have been exaggerated to draw in viewers. Netflix did not include that disclaimer when releasing the season.
It is likely that the sixth and final season of "The Crown" will be released next year featuring the same cast. This will cover the deaths of Diana and Margaret, Charles' wedding to Camilla, and Elizabeth's grandsons entering adulthood. The creators decided to end the show because the storyline was only meant to cover six seasons, so producing a seventh season would go against those wishes.
All in all, "The Crown" is still a worthwhile show to watch to understand the trials and tribulations of the royal family, despite the controversies that surround it.