Student Council Red Cross Blood Drive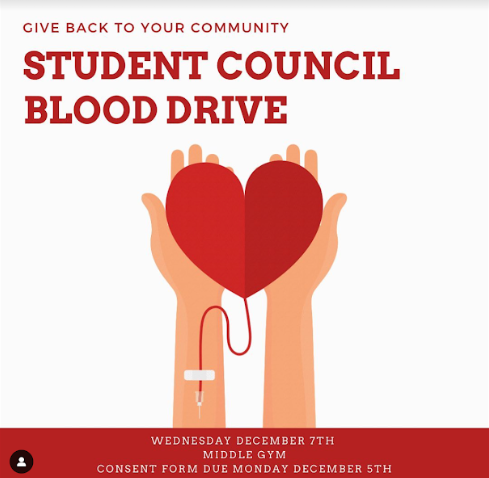 Continuing with their longstanding tradition, Cherokee's Student Council held its annual blood drive on December 7, 2022. Each day 38,000 people need a blood transfusion. Despite this, only 3% of eligible people donate. For those who wish to donate in high school, you must be at least 16 years old and meet the height and weight requirements (linked below.) The American Red Cross requires that donors bring two forms of identification, such as a driver's license, school ID, or passport. Additionally, those under 18 years of age will need their parents to sign a consent form to participate in the event. 
Consent forms could be found in the North Main Office or on the Cherokee Homepage. Before the big day, blood donor volunteers received passes to leave class and headed to the Middle Gym where donations took place. After donation, food was provided to replenish the body since drawing excessive amounts of liquids can lead to lightheadedness, dizziness, and nausea. This is why it is recommended to eat beforehand: consuming iron-rich foods such as poultry, beans, and spinach is beneficial. Donors should also be well hydrated, get a good night's sleep, and come in wearing comfortable clothes with sleeves that you can roll above your elbows. 
 While your blood is being drawn, it is encouraged to bring a friend along or a book to read. The process takes some time and letting any stress or anxiety out by keeping your mind busy is proven to help. Most importantly, spread the word and encourage your friends to consider saving a life.
 In total, the Cherokee Student Council Blood Drive had 35 volunteers who successfully donated blood, leading to 35 pints collected, and created the potential to save 105 lives!
More information on requirements for students:
​​https://www.redcrossblood.org/donate-blood/how-to-donate/info-for-student-donors.html 
More information on accepted identification types:
https://www.redcrossblood.org/donate-blood/blood-donation-process/before-during-after/acceptable-formsofidforblooddonors.html. 
For more information please contact Mr. Kelhower at: [email protected]