"Don't Worry, Darling" is Not a "Victory" for Olivia Wilde
"Don't Worry, Darling" is a movie full of drama, both on- and off-screen. The conflict and tension between cast members was the subject of internet discourse for months leading up to its release on October 21. As one of the most discussed movies of 2022, "Don't Worry, Darling" fails to live up to the hype and disappointed both audiences and reviewers, with an average score of 38% on Rotten Tomatoes. 
"Don't Worry, Darling" was directed by Olivia Wilde and has a long list of big names in its cast. Florence Pugh and Harry Styles star as Alice and Jack Chambers, a married couple living in the seemingly utopian company town of Victory. Alice spends her time cooking, cleaning, and spending time with the other women of Victory, including Bunny (Olivia Wilde) and Peg (Kate Berlant). Meanwhile, Jack and the men work on the "development of progressive materials" at Victory Headquarters under the direction of Frank (Chris Pine). It seems like the perfect life, but something sinister is going on under the surface, and Alice is determined to get to the bottom of it.
Pugh displays her immense talent as an increasingly paranoid housewife whose intelligence and courage drive the plot forward. As a newcomer to the acting scene, it would be unfair to expect Styles to perform as well as experienced actors such as Pugh and Pine, but he does fairly well. However, he fails to bring the necessary level of nuance to the character, which leaves his scenes with Pugh feeling unbalanced. In many scenes, Pine's manipulative CEO has more chemistry with Pugh than Styles does, and it's unclear if bad writing or Styles' lack of acting experience is to blame.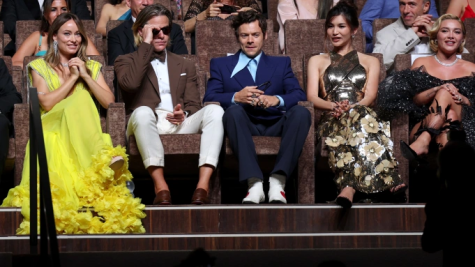 Frank's wife Shelley (Gemma Chan) and Victory resident Margaret (Kiki Layne) both deserved more screen time than they got, and seeing more of their perspectives would have made a more interesting movie. A surprising twist (one of the few truly unexpected aspects of the movie) involves Shelley's character seemingly coming out of nowhere without any previous scenes to support it. Margaret was considered by some to be the most interesting character in "Darling," but many of her scenes were reportedly cut during post-production. Additionally, the upbeat oldies soundtrack combined with renowned composer John Powell's unsettling score combine effectively to set the scene, although the needle drops feel forced at times. Styles' own contribution to the soundtrack, "With You All The Time," shows he is a much more talented singer than actor.
There is no doubt that "Don't Worry, Darling" would not have sold nearly as well as it did if it hadn't been for Harry Styles. His fanbase of teenage girls and young women flocked to theaters to show their support for the popstar, but another actor, Shia LeBeouf, was originally meant to play Jack. However, he was either fired from or quit the movie in late 2020, depending on who's telling the story. Wilde claimed she fired him after Florence Pugh told her she felt uncomfortable working with him, but a video of her seemingly begging LeBeouf to stay and condescendingly referring to Pugh as "Miss Flo" says otherwise.
Everyone on the internet has had their own opinion on the romantic relationship between Olivia Wilde and Harry Styles, which reportedly began during filming in early 2021. Everything from their ten-year age gap to Wilde separating from her husband right before the romance supposedly began led to the theory that the whole relationship was fabricated to draw attention to the movie, but this theory has been debated. Twitter users also enjoyed "Spitgate," a mostly ironic theory that Styles had spit on Pine during the premiere of "Don't Worry, Darling" at the Venice Film Festival. Although the claims sparked many memes and jokes, they were dismissed as false by representatives of both parties involved. Gemma Chan was the only member of the main cast that avoided being caught up in all the drama surrounding the casting, filming, and release of "Don't Worry, Darling."
Overall, "Don't Worry Darling" had a lot of potential, considering its cast of mostly well-known actors, but it failed in many ways to live up to this potential. Harry Styles chose an overly ambitious project as his first leading role, and could not hold his own against the talents of Florence Pugh and Chris Pine. The drama behind the scenes overshadowed the actual movie and ensured that "Darling" will go down in history for all the wrong reasons.