Taylor Swift Goes Back Into Pop with TS10: Midnights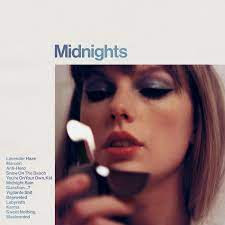 "Midnights" in the Making 
On midnight of October twenty-first, Taylor Swift released her new album. The singer and songwriter first announced "Midnights" while accepting a VMA for her short film, "All Too Well." Ever since the news was proclaimed, every fan was trying to get a glimpse of what was soon to come. Swift said the album told the tales of 13 sleepless nights scattered throughout her life. When the "Midnights" album cover was released, the track titles were missing. This created a whirlwind of theories and predictions amongst her fandom. Taylor decided to start a segment on her social media accounts, where she gave away each track at random, calling it "Midnight Mayhem." 
Midnight's Muse
The artist and her team have hinted at the album being dark and discussing somber topics, with the album cover being a close-up of Swift, holding a lighter, showcasing a dark blue eyeshadow look. Since her latest albums, "Folklore" and "Evermore," were in the folk genre, fans expected a slow record that tells fictional stories, each song transporting you to a different world. Others predicted Taylor going back into pop music, as that was the style she did most frequently. However, we do know that it will explore her most agonizing moments, as Taylor said that some of the things that inspired her were self-loathing, fantasizing about revenge, wondering what might have been, and falling apart. With a light touch to it, the fifth thing is falling in love. 
The Makers
The album was produced by Taylor's longtime collaborator, Jack Antonoff (who has credits for eleven out of the thirteen songs), and others like Jahaan Sweet, Sam Drew, Mark Anothy, and Keanu Torres. The artist took to social media to express her endless gratitude and appreciation for Antonoff. She wrote, "'Midnights' is a wild ride of an album and I couldn't be happier that my co-pilot was Jack Antonoff." Swift writes all of her songs, but she did have some co-writers, such as Willam Bowery and  Zoë Kravitz. She even is set to feature Lana Del Ray on track 4, "Snow on the Beach." 
The Reveal 
"Midnights" has officially arrived, and it's received nothing but good results for the artist. Rolling Stone rated it one hundred percent, calling it an "instant classic," beating all of her previous ratings. "Midnights" has sold more than one million copies, claiming the record for most albums sold in a week, which overtook her album "Reputation."  On Apple Music, "Midnights" holds first place for the most streamed pop album in a day. On Spotify, "Midnights" fills up every spot in the top ten except the second. The crowning jewel is the song, "Anti-Hero." 
Music Videos
Swift also directed a music video for the song "Anti-Hero," which came out a few hours after the album. The video shows two versions of her, a timid and insecure one, and a problematic one who attempts to teach the other how to appease society. It features Mary Elizabeth Ellis, Mike Birbiglia, and John Early. Her second music video, for "Bejeweled," was released on October 25. The Cinderella-themed video is filled with glamorous jewels and breathtaking outfits. Laura Dern plays the evil stepmother, the rock band HAIM portrays the stepsisters, and the video guest stars Lana Del Ray and Jack Antonoff. 
What's Next?
Taylor Swift also explained "Bejeweled" was a song about gaining confidence to go back into pop after spending years in a different genre, and she has done nothing but prove her nerves wrong. Her audience's expectations were surpassed with the new album. The only question that still remains is what's next for Taylor Swift? Will she go back to rerecording her previous albums, or write another successful album? Either way, fans everywhere are eagerly awaiting her next step.