Super Mario: From Game To Film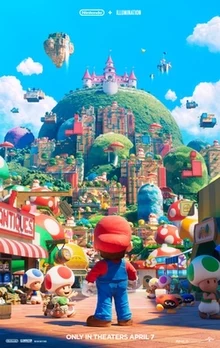 On September 13, 1985, the Super Mario Bros. franchise made its grand entrance into mainstream media. Hearts across the world were filled when the original Super Mario Bros. game was released on the Nintendo Entertainment System. The series focuses on conquering various enemies, completing stages, and vanquishing bosses in order to save Princess Peach from the clutches of the main antagonist, Bowser. Since then, Super Mario Bros. has been a wildly successful franchise, with dozens of Super Mario video games hitting the shelves over the years on a myriad of different Nintendo consoles; some are still being released to this day. Since the release of Super Mario Bros., video game culture has never been the same.
Set to release in the United States on April 7, 2023, produced by Illumination and Nintendo, is The Super Mario Bros. Movie. Not much information on the plot has been released to the public yet, but the cast has so much potential. Some iconic voice cast members include Chris Pratt as Mario, Jack Black as Bowser, Seth Rogen as Donkey Kong, and so many more.
This 2023 film intends to set itself apart from its precursor, the 1993 Super Mario Bros. movie, as this project was an overall commercial failure. As user Anaang commented on the IMDb website, "I was blown away with how horribly bad it was." Nintendo grew extremely cautious of creating film adaptations since then, all leading up to this point about three decades later, when they decided it was time to take the world by storm. Fans cannot wait for the moment of this movie's release, and it has endless potential.