Did the Cherokee Performing Arts Center become the Cherokee Ocean?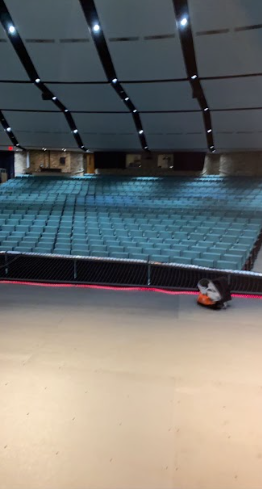 During the past summer, Cherokee's very own Performing Arts Center (also known as the PAC) underwent a massive roof renovation. The company who helped install the new roof had an emergency protocol for inclement weather: a tarp. One night, a severe thunderstorm hit Cherokee, somehow causing the tarp to break from the rain. When the workers arrived the next morning, they were greeted with destruction. The PAC was in worse shape than it was at the end of last school year, and now Cherokee had to work harder in order to restore it to its previous state.
When students first heard about the incident, many assumed the absolute worst occurred. People assumed that the entire room had flooded and destroyed everything inside of it. Thankfully, it was not as bad as it seemed. When the PAC initially flooded, the rain fortunately did not hit any of the expensive lighting equipment. It also did not affect any of the seating area, permitting assemblies and club meetings, such as Renaissance club, to still take place there. However, it still destroyed the new floor that was installed in 2020, as well as most of the stage crew sets made during the last spring musical production.
Although the school's budget was hit hard due to this event, no one was affected more than the arts program. The Cherokee theater program, who uses the stage the most, had to move to other areas of the school to practice for the upcoming fall musical: Elf. The musical also had to be pushed back to the middle of December (show dates will be on Dec. 9, 10, 16 and 17), as the musical could not be ready by the typical Thanksgiving weekend premiere. This event also forced the band concert to move eight days ahead of schedule to December 1, the choir concert to be pushed three weeks back to December 22, and the Orchestra concert to be postponed indefinitely.
Despite the massive change in the arts schedule, it is not the end of the world. The new floor for the stage was completed in early October, and Cherokee theater was able to return to the stage on October 7. Now with a completed stage, the arts program looks forward to showcasing its talents in the PAC throughout December.