The Class of 2024's Night on The Red Carpet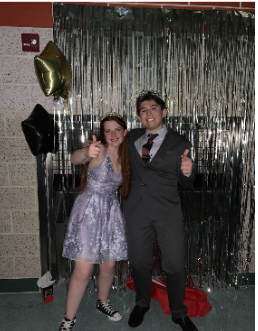 On April 29, 2022, the class of 2024 gathered in the North cafeteria for its sophomore cotillion. For quite a lot of people, this was their first experience with a Cherokee school dance. Although students did have homecoming in the beginning of the school year, the class of 2024 has not experienced a school dance with just their grade since middle school. A few sophomores gave their general opinions on that night:
Sophomore Ava Reganato shared: "It was fun. My favorite part was dressing up and being with my friends. It was a typical school dance, but I think it would have been cooler if it wasn't at the school. Other surrounding schools had their cotillion at restaurants. Lenape had JDD at the Citizens Bank Park Stadium. I think it would have been cool to have a competition for [Cotillion King and Queen]."
Sophia Beatty, another sophomore, said: "Yes I went to cotillion. It was pretty fun, I got to reconnect with people I don't normally see and got to spend time with some of my favorite people! I would say my most memorable moment was seeing people I haven't seen in awhile and getting ready with my friends beforehand. I'm not really a dance person so I was surprised that I actually had fun. It lived up to my expectations."
"Most aspects of the dance lived up to my expectations, however, I am used to food being provided for the students at school dances, and many of the styrofoam cups that were placed for kids to use to drink water kept falling and spilling all over the floor.  Eventually, many of the cups ended up broken and soon ran out," claimed Olivia Walton.
When asked, Walton also gave her thoughts and opinions about a Cotillion King and Queen: "A cotillion king and queen competition would have been entertaining, however, it would definitely cause rivalry between students."
With this being the first dance exclusively for their grade, it appears it was an altogether success. On behalf of the class of 2024, we would like to thank the chaperones who made the dance possible, the custodians who helped clean up the area, the school for providing the space, and the 2024 class advisory board members and advisors who helped decorate and plan this picture-perfect night.