Manchester Orchestra: My First Concert Experience Post-Pandemic
Ever since I was little I've been dragged along to concerts of bands that were my mother's favorites like U2, Bruce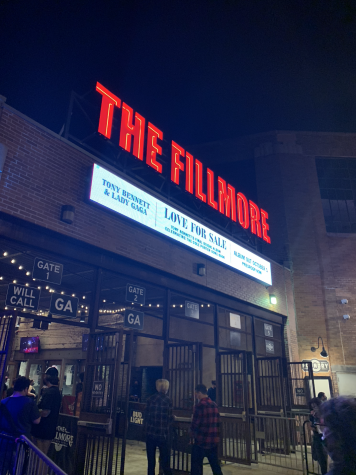 Springsteen, The Eagles, and Matt Kearney. I would always complain but saw the value in going to see artists that might not ever tour again. This time when she told me that we were going to a Manchester Orchestra concert, I was surprisingly enthusiastic to go. Maybe it was because of the times she played their music in the car, I started to appreciate the indie rock style she so loves more, or I had a newfound appreciation of live music after the raging global pandemic.
Manchester Orchestra is an indie rock band from Atlanta, Georgia formed around 2004. Starting with a more "scream your head off and heavy drums"-type sound, the band has taken on a more mellow rock tone with reverberating vocals and complex drums, and instrumental harmonies. Their most recent album "The Million Masks of God" released in 2021 follows up their highly successful album "A Black Mile to the Surface" from 2017, peaking at the US BIllboard 200 at 33rd.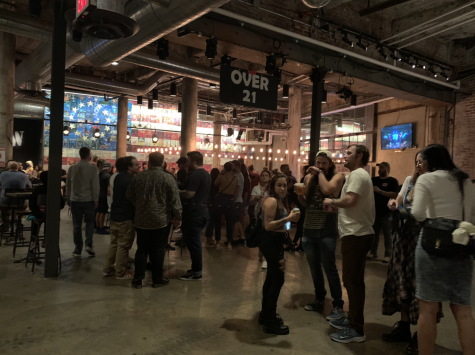 My last concert before COVID was Ariana Grande at the Wells Fargo Center, a much different venue, genre, and size than Manchester Orchestra. Returning to live music in a familiar space — previously I've seen Matt Kearney and Dodie at the Fillmore, where a smaller crowd creates a more cozy feeling — and a genre such as rock, which evokes emotions through its heavy instrumentation, felt fitting to the circumstances.
On October 15, 2021, Manchester Orchestra played The Filmore in Philadelphia. My mother and I chose to drive into Philly for the event. At the door, we were asked for our vaccination cards and IDs, and the venue was plastered with signs that read, "REMINDER: FACE COVERINGS ARE MANDATORY AND MUST BE WORN AT ALL TIMES."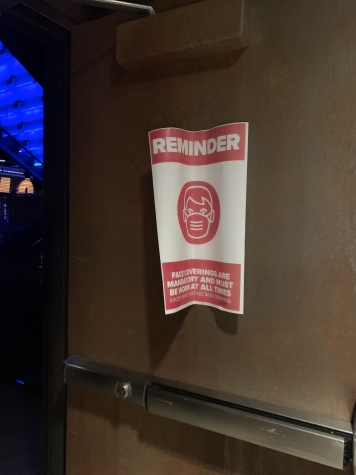 Despite this people were being let in without their masks and many others took them off once inside. From what I could see the only ones actually following this rule were the various staff of the Filmore and those who were concerned for other people's safety.
We had tickets in the upper mezzanine area, both to stay away from large crowds and to be able to sit down during the performance.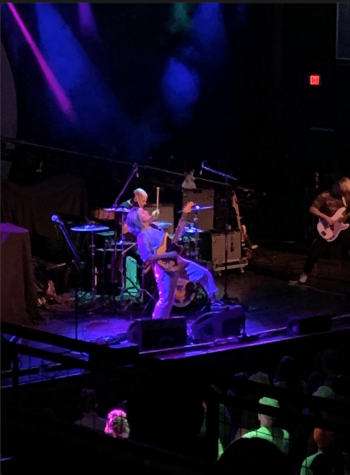 Opening for Manchester Orchestra was Slothrust, an alt. rock band comprised of three members, including the female lead singer Leah Wellbaum. As we were taking our seats, their set was ending with their last song of the night, "Waiting," which was a properly fitting ending as the main singer screamed with a middle finger to the sky, foot on the speaker, guitar wailing, "F*ck the crowd, eat their pain, get on my cloud, Stay this way…" I wasn't a huge fan of their style of music but appreciated the lead singer's rock persona.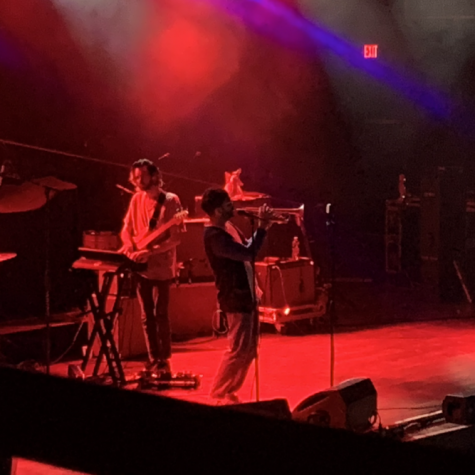 Next on was Foxing, an indie rock band that has toured with Manchester Orchestra multiple times before. This band I LOVED. Their songs "If I Believed in Love," "Draw Down The Moon," and "737" were all so complex and beautiful. I'm not a huge fan of heavy drums and guitar, which is what my mom loves, but for some reason, Foxing's songs just clicked with me. The best part of their set was when Conor Murphy pulled out a trumpet and started blasting the ballad section of "Draw Down The Moon."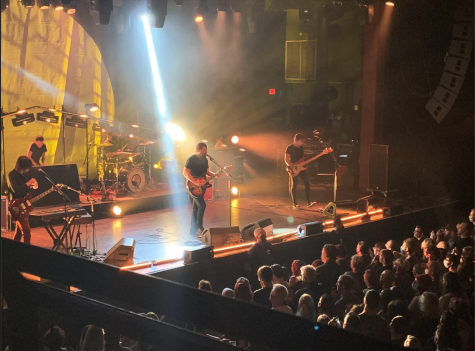 Finally, at around 9:55 p.m. Manchester Orchestra took the stage, opening with "Inaudible," also the first track of their newest album, which takes on a commentary about the constraints of monetary gain. Overall, my personal favorites from the album are "Angel of Death," "Telepath," and "Bed Head" and it was rewarding to hear Andy Hull perform his vocals in person. It was also so surreal experiencing the rocking of the drums mirroring my heartbeat while the crowd filled the remaining space of the room with their voices.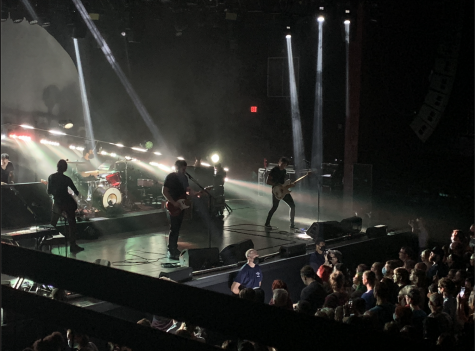 I'm very grateful that I was able to experience a concert again with live music and being able to share it with my mother was truly rewarding. Seeing people just act like people again was its own kind of performance (as at least two people tried and failed to crowd surf onto the stage). I certainly won't forget this experience and eagerly await to see what the future holds for the live music industry and how they will adapt once again after the pandemic is over.