Stephanie Micken: A Journey Into The World of Ballroom Dance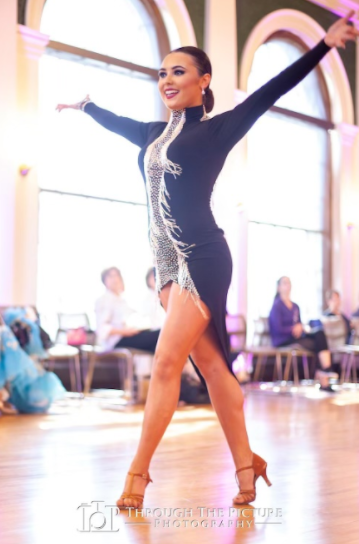 On one boring summer day years back, Stephanie Micken, now a Cherokee senior, saw a dancing video on YouTube that would change her life. The video was from America's Got Talent, showcasing a young couple ballroom dancing. The video intrigued Micken and inspired her. Never looking back after that, she signed up with a studio, figuring it was never too late to pursue her interest in dance. Today, the couple in the video are Micken's competitors:  
"I think I've competed against them before [the couple in the video]," she says, laughing. "Which is so weird to think about." 
In this interview, Micken sits down with The Cherokee Scout to discuss ballroom dance: what it is, why she chose it, and what it means to her. Ballroom dance, as defined by Micken, is a partner dance that has many diverse dancing styles within it. There is American "style" ballroom dance, as well as International ballroom dance (such as fast-paced Latin American dance). 
"I specialize in Latin," Micken explains. "So I'm doing a lot of fast things, which is good for me because I'm short and so I move fast." 
Micken describes how Latin dance has five dances within it: the Chacha, Jive, Paso Doble, Rumba, and Samba. Each dance has its own complex and fascinating history and story and is danced to a certain type of beat. 
In competition, these dances will often come one after the other in rounds, and competitors will be dancing with multiple different couples on the floor. As a competitive ballroom dancer, Micken has to pick up the beat and style of all these dances in order to compete. 
She also has to play a unique role whenever she takes the floor. As Micken explains, dancing involves showing emotion and "acting" in a sense. Each different dance needs a different mask or "personality," in order to come across in the right way to the judges and audience. 
But for Micken, dance is just as much about community as it is about competition. Being in dance introduced her to the Russian dancing community and culture, which she embraced by taking Russian at Cherokee. Later, when she joined a Russian studio with coaches Igor Golovach and Michelle Angela Blank (where she currently trains), taking the language allowed her to communicate and connect with the people around her. 
"I'm so glad I picked it," she says. "After getting more into it, it proved to be very very useful….now I have Russian coaches." 
Being a successful dancer is a huge feat within itself, but when added to the struggles of being a full-time student, things can get tricky. When asked what qualities a successful dancer should have, Micken responded eloquently. 
"I am very motivated and I'm very passionate about what I do," she says. "In order to be a successful dancer…you have to be consistent. If you're not consistent, what's the point?" 
Micken has struggled with consistency herself early on in her partnership, but eventually became better over time. She argues that successful dancers need to have a focus and a talent and must be hardworking above all else — qualities she has clearly mastered herself. 
For her own inspiration, Micken looks up to dancer Khrystyna Moshenska, a three-time Latin World Champion and an incredibly powerful dancer.  
"You just want to look at her," Micken describes. "She's insane." 
Amazingly enough, Micken's other main inspiration is now one of her own coaches, a World Champion who formerly competed with Moshenska — Vladimir Karpov, who coaches her and her partner. A very knowledgeable professional dancer, Karpov continually helps Micken to improve, giving her his own expertise from years of competition. 
While coaches Karpov, Golovach, and Blank help Stephanie with her partnership and in competition, another coach, Jonathan Cabrera, focuses on helping her access her more expressive and passionate side during dance, another vital aspect of competing. 
"I'm able to feel the dancing [when working with Cabrera]," she explains. "It's a totally different mindset." 
When it comes to the future, there are a lot of different opportunities in ballroom dance, especially in Europe. There is the World Dance Council, World DanceSport Federation, Dancing With the Stars, and much more. However, as Micken describes, there are also a lot of moving parts a dancer must keep up with in order to be successful. 
Physical appearance can matter a great deal. Hair, makeup, tans — these are all "musts" for a competing dancer. In addition, there are things like plane tickets, competition fees, hotel rooms, registrations, etc. All of this can be expensive, as well as time-consuming. Micken describes how lucky she feels to have a supportive family behind her that helps her as she dances. 
"My family has made some sacrifices," she notes. "They're fully supporting me. It's really important to have a good support system." 
Yet even with the beauty standards and added cost of competing, Micken makes the point that it is worth it in the end if you're doing what you love. 
Another challenge, however, is time management, and with it, stress management. With three part-time jobs — tutoring, teaching at the dance studio herself, training "camp" — and being a student, Micken describes the struggle to handle all of her responsibilities:
"Technically, I'm booked every day," she shrugs modestly. "I find a way to bring friends [into my life]. It's just a balance."
Within her own personal music tastes, Micken's favorites range from artists like Grimes to Miley Cyrus to Nicki Minaj, and even to AC/DC. In terms of dance music, she prefers it to be more modern. 
"It's a nice mix," she quips. "Honestly, it's a big range." 
When asked what advice she would give to people just starting out in dance, Micken didn't blink before answering: 
"It's all about the time you put into it," she advises. "Nobody else is going to take you there. If you really want it, it's right there." 
As someone who started dancing pretty late, she describes often worrying about "catching up" to other dancers. Today, she's competing against people who have been dancing for many more years than she has. Self-motivation is hard, finding a dancing partner is difficult, but the eventual result is possible, and Micken is living proof of that. 
In the beginning, Micken says, she was embarrassed to even tell people she ballroom dances. Now, with the confidence dance has given her, self-growth came more easily. Dancing can be a very critical environment, according to Micken, full of people willing to tear dancers down for their appearance and judge them. But she believes that once you surround yourself with uplifting people and stop being overly self-critical, confidence, effort, and passion can overcome uncertainty. 
"Finally, I can tell people: 'I do this and I'm actually good at it,'" she smiles.