The Hidden Danger of Concussions in the NFL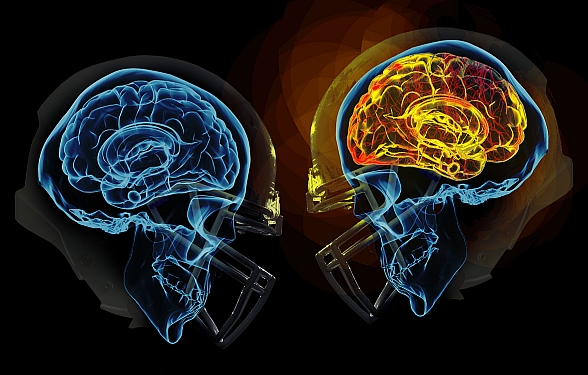 Patrick Mahomes is the starting quarterback for the Kansas City Chiefs who suffered a concussion during the third quarter of the AFC divisional round playoff game against the Cleveland Browns. On January 22, just five days after his injury, Mahomes confirmed that he was out of concussion protocol and would play in the AFC Championship game against the Buffalo Bills on January 24. This is great news for Chiefs fans but, with CTE (chronic traumatic encephalopathy) and other brain-related injuries on the rise, it might not be bad news for players. When Patrick Mahomes is taken out of a playoff game, Chiefs fans pray for him to recover quickly. Meanwhile, Browns fans jump for joy seeing the star quarterback helped off the field into the blue tent. There is both a physical and emotional investment involved with the game of football. The emotional investment fans put into teams allows them to ignore the severity of these injuries while professional athletes know the risks of putting their bodies and health on the line before each game. Concussions and other head injuries can have a long-lasting impact that can destroy the lives of everyone's favorite athletes. 
CTE is a neurodegenerative disease that results from repeated traumatic brain injuries. Symptoms of CTE include memory loss, impulsive behavior, poor judgment, and extremely aggressive and depressed behavior. Many former professional athletes are often falsely diagnosed with Dementia and/or Alzheimer's Disease. However, autopsies of the affected former athletes revealed that they suffered from CTE. 
A prime example of this is Mike Webster, formally a fan favorite center who played 17 seasons in the NFL before retiring in 1990. Throughout the years following his retirement, friends and family noticed he was acting differently. Webster acted impulsively and aggressively and was not able to form coherent sentences in an interview. When Mike Webster passed away in 2002 from a heart attack, Dr. Bennet Omalu examined his brain thinking he would find Dementia Pugilistica. But, when slivers of Webster's brain were examined under a microscope, Omalu found a buildup of tau proteins that kill healthy brain cells. Omalu had stumbled upon the first case of CTE. 
Throughout the early 2000s, more beloved professional athletes passed away from CTE, and subsequently, more examples of this alarmingly dangerous disease were found. Dr. Ann McKee headed CTE research becoming the director of the CTE Center at the Boston University School of Medicine and director of Neuropathology at the BU ADC. She also directs all brain banks at the VA Boston Healthcare System. McKee and her team work with the Concussion Legacy Foundation (co-founded by Chris Nowinski, CEO, and Dr. Cantu, Medical Director) to do extensive research on repeated traumatic brain injuries and CTE. The NFL continued to denounce medical journals published by Omalu and ignored data presented by McKee and her team. But, the long-awaited acknowledgment of CTE by the NFL finally occurred in March of 2016 where they donated over $1 million to the BU CTE Center. Additionally, in 2018, the NFL launched the Play Smart, Play Safe initiative to prevent injuries and improve the health and safety of professional football players. This included an improved concussion protocol with an enforcement policy. The Neck and Spine Committee, a group of independent and NFL-associated physicians, creates and reviews the protocol every year to keep it accurate to newfound medical findings. The concussion protocol was also published in a peer-reviewed medical journal, furthering its credibility. 
The updated concussion protocol coupled with the new return-to-play protocol, which involves the player getting cleared by an independent neurological consultant, allowed Patrick Mahomes to return to play in the AFC Championship game and move onto the Super Bowl. While the precautions and treatment for concussions have improved over time, developing research and theories come out each day creating a safer sport for everyone to enjoy.