"Ma Rainey's Black Bottom": A Tour de Force for a Late Actor, and Much More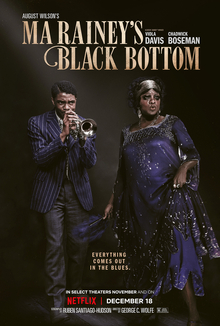 Undoubtedly, the reason most people will watch "Ma Rainey's Black Bottom" on Netflix is because it contains the final performance of "Black Panther" actor Chadwick Boseman, who tragically passed away last August from colon cancer at 43. Although Boseman's performance is astounding and certainly one of the film's best features, it has a lot more to offer in its portrayal of a modern play by revered author, August Wilson.
"Ma Rainey's Black Bottom" contains characters from modern history and a plot that feels realistic enough to have actually happened. It is about recording a song in one day for the pioneering blues singer, Ma Rainey (Viola Davis), and her small supporting band. This band contains trumpeter Levee (Boseman), pianist Toledo (Glynn Turman), trombonist Cutler (Colman Domingo), and bassist Slow Drag (Michael Potts). The first half of the film shows the characteristic differences between the band members and Ma Rainey.
While Ma Rainey purposefully wastes time in getting to the recording studio (run by two white men) and pouts about a car accident that happens right at the studio, the band members try to practice their pieces, but always end up arguing about their intransigent beliefs on life, success, and being Black in America. Levee, for instance, wants to make it as a writer of jazz songs; his fellow members think otherwise. Once Ma Rainey enters the studio, events take a dramatic turn. She rebukes the version of one of her songs that Levee had written for the recording, demands that her stuttering nephew say something for a song (which ends up wasting lots of time), and refuses to sing a single note without three glasses of Coca-Cola. All the while, Levee's ambitions cause him to make increasingly irrational decisions through which we see much development of his character. After the recording session is over, the story goes on to its shocking yet ineffable climax.
The first aspect of "Ma Rainey's Black Bottom" that is instantly recognizable as being great is the acting of the exquisite cast. The two leads stand out in particular: Boseman and Davis. Whereas Davis' portrayal of Ma Rainey is raunchy, unforgiving, and demanding, Boseman's Levee is intricate, subtle, and anguished at times. The connection between Boseman's death and this performance is incontrovertible: at moments he looks sickly, and his speeches on Levee's ambitions and hopes for success (juxtaposed with Levee's actions in the final act) ring with a solemn irony. Davis and Boseman are both favorites to win their respective Oscar categories, and were they both to win (with Boseman's being only the third posthumous acting win), it would be completely deserved. The supporting cast shines in the film, too, especially Glynn Turman and Colman Domingo. Both actors give stellar performances as the older, more experienced members of the band, who both go against Levee in their many debates. In the reviewer's opinion, it is Turman's role as Toledo which gives the greater emotional range and theatrical ability that all of the roles in this film require.
There is not much to say on the screenplay, which Ruben Santiago-Hudson has adapted from Wilson's play of the same name. While it adapts the script for the silver screen, it still stays true to the play and retains the sentiments and character that Wilson's plays are known for.
It is noticeable in some of the production aspects that "Ma Rainey's Black Bottom" is clearly an adaptation of a play. From the abundance of dialogue (which is understandable, as dialogue is the foundation of a play), to lackluster cinematography, there are some seams unraveling that somewhat harm the film's presentability as that, a film. However, many of the production aspects– the costuming, hairstyling, production design, and sound mixing– all work to make "Ma Rainey's Black Bottom" both a top-tier movie and a top-tier film adaptation of a play. In these aspects, which allows the viewer to imagine themselves in the studio and to see the characters in more detail than in a theatre, the film is able to present itself in its new medium despite some flaws.
"Ma Rainey's Black Bottom" is a film that won't be forgotten for a long time, partly because of its legacy and Chadwick Boseman's legacy, and also because of the timeliness of the story, which makes a plot based on Black people from the 1920s still relevant today. Director George C. Wolfe has done a good job in making this film a believable and quality experience, and the cast of this film has done more than their part for the film, which will clearly be rewarded in forthcoming award shows.