"Soul": A Look Into Life's Mysteries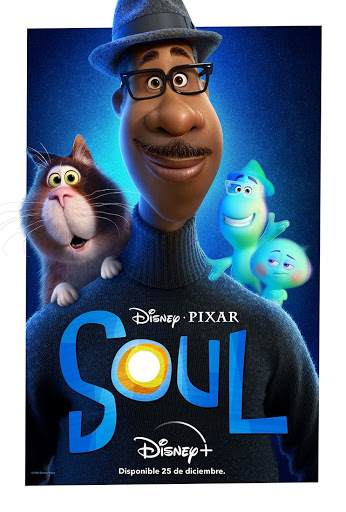 Pixar's latest film was released on Christmas on Disney's streaming platform, Disney+.  "Soul" takes on the challenging question of where we come from before life and where we go after.  It follows the life of Joe Gardner, a music teacher by day and an aspiring jazz musician by night.  When he finally gets his big break, he falls into a manhole and is put into a coma. His soul goes to the afterlife called the Great Beyond, but he needs to find a way back. Along the way, he meets an unambitious soul named 22, a famous jazz musician, and a crazy sign spinner.  
This movie was incredibly produced and directed. The cast and crew were phenomenal. The movie is co-directed by Pixar legend Pete Docter, who has worked on movies like "Monsters Inc.," "Wall E," "Up," and "Inside Out." Kemp Powers, who recently wrote the screenplay for Amazon's "One Night in Miami," also wrote and co-directed the movie. The cast is filled with many talented stars, such as Jamie Foxx, Tina Fey, Angela Bassett, Phylicia Rashad, and Questlove. Jamie Foxx and Tina Fey's chemistry brought the movie to a whole new level. The cast's performances along with the crew's story made "Soul" come to life. 
The amazing animation made the movie a hundred times better. The animation of "Soul" was very eye-catching and the creators of the animation did a great job of making the fictional world seem like it truly exists. "Soul" is also great because it includes Pixar's first African American lead character. It is nice to know that Pixar is starting to tell more diverse stories.
While the movie was overall entertaining to watch, there were some parts that were difficult to follow. There were many twists and turns, which made it confusing at times. If you aren't paying attention and making sure you know what's going on, you could easily get confused. Another thing that might not be great about this movie is that it's following the pattern of movies being released to private streaming platforms. This is a concern because if all movies follow this trend, it could possibly cause the decline of movie theaters. Although there were some downsides to "Soul," it was ultimately beautiful and compelling. Sit down, relax, and grab a bucket of popcorn to contemplate life's most interesting questions. 
4/5 Feathers