A Stranger Summer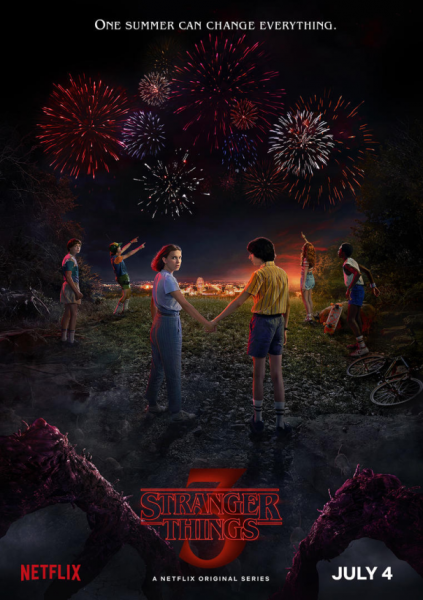 Looking for a new show to binge watch? Netflix's original series, "Stranger Things," is coming out with a third season said to air on July 4th 2019. The original cast is all said to be returning with its Independence Day themed poster featuring main characters, Eleven, played by Millie Bobby Brown, and Mike, played by Finn Wolfhard, holding hands.
Surrounded by friends, fireworks, and an uninvited guest from the Upside Down, the tagline of the poster, "One summer can change everything," creates even more questions and mysteries, leaving fans excited for what is to come.
The creators of the Netflix hit show, the Duffer Brothers, and the show's producer, Shawn Levy, have set the stakes high as they hope to bring the fans something bigger and better. Fans speculate that this season will have only eight episodes with the titles coming from lines featured in the new trailer. The trailer also hints the plot's direction as the phrase, "When Blue and Yellow Meet in the West" was typed on a computer screen during the video.
Fans have been waiting patiently for the new season and Shawn Levy upped the ante when he revealed, during the 2018 Emmy Awards, that it is going to be the biggest season yet. Though it may seem like it is light years away, all of the leaks and speculation have shown fans that this season is going to be well worth the wait.
View the trailer and get excited for the new season here: https://www.youtube.com/watch?v=YEG3bmU_WaI