"The Hate U Give" Brings Issues to Light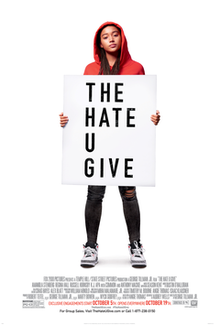 "The Hate U Give" by Angie Thomas is a book that gives readers a window into the injustice and racism African-Americans face in America. The book focuses on a black girl, Starr, who lives in two different worlds. Her school and neighborhood worlds are always kept apart, parts of her hiding in each one she's in- until her best friend is killed and it all comes crashing down. When allegations and lies start spreading, she decides to speak up and tell her story. As her story comes to light, she gets many threats in her neighborhood, and is faced with judgement in school. This book brings awareness to racism, injustice, police brutality, and so many other hot topics that are being avoided in the world.
"The Hate U Give," directed by George Tillman Jr, is based off of Angie Thomas's best-selling book "The Hate U Give." As stated above, this movie is about Starr's (Amanda Stenberg) different worlds, and her all-black neighbor and all-white private school. What's also similar is how her worlds are changed after her best friend Khali (KJ Apa) is killed right in front of her.  She speaks up against the problems that some are just too blind to see. This movie gives a picture to everything Angie Thomas wanted readers to know about lives that are different than normal, and the problems of some in this world.