Powderpuff: Alm19ghty vs G20rious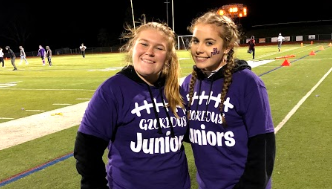 Hang on for a minute...we're trying to find some more stories you might like.
November 13, 2018: Cherokee's Annual Powderpuff Game. Each year, dozens upon dozens of junior and senior girls gather together on the turf to battle it out for Powderpuff champion. This year, the Class of 2019 girls had proclaimed themselves to be the ALM19HTY Seniors and the Class of 2020 were the G20RIOUS Juniors. It was more than just a female turnout; numerous boys from both grades gathered on the sidelines to cheer the girls on and help get the win. The Seniors beat the Junior girls, but the Junior girls are more than ready to come back next year and defeat the Class of 2021.