Fall Out Boy's Switch In Style Meets Mixed Response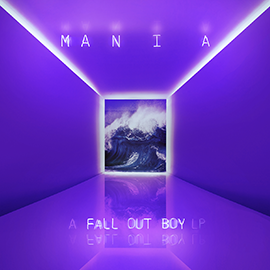 Fall Out Boy was formed by friends Joe Trohman and Pete Wentz outside Chicago in 2001. Since then, the band has been making wonderful music and reaching a broader audience with every album that they release. After three long years of anticipation, the band finally decided to release some new music. Ever since the announcement, fans had been waiting for the album, titled "Mania." Originally set to release in September 2017, the date was pushed back to January 2018. The band felt that they could make a better record with some additional time. Once this much-anticipated record was released, the internet exploded with mixed reactions. Fans felt surprised, shocked, disappointed, as well as happy and excited.
Common complaints are that "Mania" does not sound like the classic Fall Out Boy. After listening to the album, many fans wondered if the extra months spent on the album led to any real improvements. The album seemed liked a collection of seemingly random and generic-sounding songs. 
The radio hits are a pretty good representation of what the rest of the album is like. Even though there are certain moments where the album sounds like classic alternative rock Fall Out Boy, the majority of the album leans toward pop. With the beat drops and heavily auto-tuned vocals, Fall Out Boy moves further and further away from their original sound. The band that once said they wanted to save rock and roll decided to take a one-eighty and head in a completely new direction.
"Mania" is not anything special, but after overcoming the initial shock of the drastic change in sound and genre, the album starts to sound almost okay. Although "Mania" is dramatically different from Fall Out Boy's previous works, it is not awful, just unexpected. There are definitely some misses such such as "Sunshine Riptide," but there are also some great songs such as "Stay Frosty Royal Milk Tea" and "Church."
This album is the start of a new Fall Out Boy era. The release of "Mania" most likely resulted in the band losing some loyal fans; however, it will also result in the band gaining new listeners. Whenever a band or musician decides to change their sound, they run the risk of losing fans. Fall Out Boy decided to take a risk and it resulted in a mediocre pop album. Not all risks result in an amazing product.
3/5 feathers