Cherokee Girls' Basketball Team Barely Takes Home the Win Against Rival Lenape
With the home court advantage, Cherokee's girls' basketball team beat out the Lenape girls' basketball team by a bare margin of 35-33 through a slew of skill and teamwork.  In the second game of their season, the Lady Chiefs showed off their great chemistry, especially the Therien sisters, but fell short in their mechanics and ball play.
The starting lineup consisted of captains Katie Cummiskey ('18), Lyndsay Craig ('18), and Ava Therien ('19), as well as Kennedy Wilburn ('20) and Alexa Therien ('21).  The girls started the first half with a bang, ending the first quarter with a lead of 13-1 over Lenape.
"Defensively…we're…ahead of where we are offensively.  The game plan [was]…to try to take away the three point shots from them," said head coach Powell.
However, this sharp performance tapered off in the second quarter.  Both teams combined committed around 11 fouls, most of which benefited the Indians, bringing their trailing score to 13 to 8 with 5:57 left in the quarter.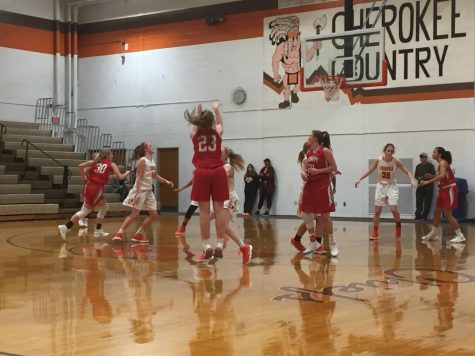 The third quarter was rookie Alexa Therien's time to shine; she scored eight points in this quarter alone.  The Indians shot a total of two three-pointers, despite Cherokee's defensive effort.  The Indians got most of their points (about 13 points collectively) in this quarter and gained on the Chiefs.  With 3:40 left in the game, the teams were neck and neck with Lenape taking the lead in a score of 19-23.  The fouls continued to persist, with a total of five fouls on both sides.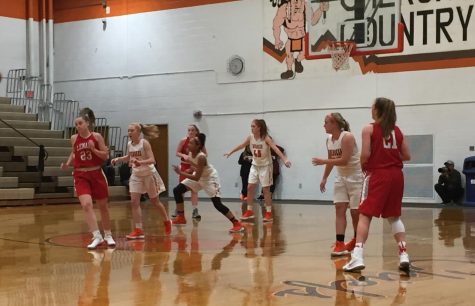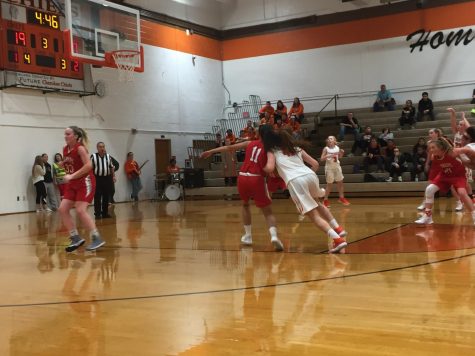 With the final quarter underway, some players made a full effort.  Wilburn made a total of five points, three of which were foul shots.  But nothing compared to the action in the last five minutes of the game, where the score jumped from the trailing Chiefs' score of 28-30, to a tie of 33-33, and then to the Chiefs' winning score of 35-33.  The shining star in all this chaos was Ava Therien, who made the shot which tied both teams and the winning shot with only 10 seconds left in the game.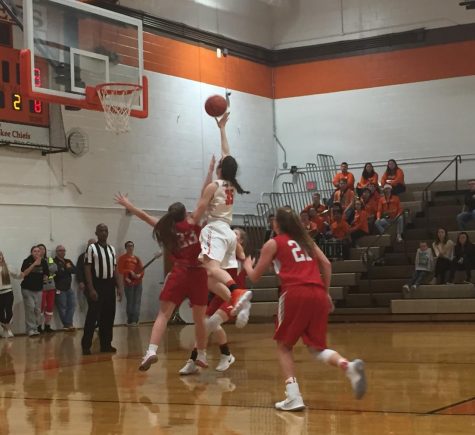 To Ava Therien, it was not as easy as it sounds.  
"Especially playing against Lenape, it's really nerve wracking.  But you have to…try and stay… composed…(and)…understand what you have to do to get everything done," said Ava Therien.
With this miraculous win, to the fans, the game felt like an early high point in the Cherokee season.  In reality, the players still need to improve a lot of their game play.
"Even though it's a win, I was not really satisfied with how we played," said Coach Powell.  "We're usually pretty solid in our defense,…[but we] gave up thirteen offensive rebounds."  Or, in other words, "we should be throwing the ball to the team with the white shirts and not the team with the red shirts on". 
"It's about focus right now and…making good decisions when you have the ball on your hands and running our sets," says Coach Powell, looking forward to improvement.   
Other players, especially the veteran players, also recognize the need for improvement in execution.
"Once things don't go our way, we can't just stop," said senior post Maggie Rowan.   
"We don't give up, but we [can]…revert back to not playing well.  We have to keep up the energy and hope and confidence in our team and ourselves," said Craig. 
With their star 2016-17 Courier-Post Girls' Basketball Player of the Year, Isabella Therien, gone, the girls are still finding their way. 
"I was a little nervous today, especially coming from…last year.  There's a lot of expectation with my sister leaving," said Ava Therien. 
"Even when they weren't doing so well, they could rely on Izzy to bail them out, because she was just that talented," said Coach Powell
But with an undefeated record so far into the season, the girls have made a great start.
Lenape had a good run as well, showing off their offensive skills and tenacity.
"I thought it was going to run away, but the girls didn't quit," said Coach Hummel of Lenape.  "To know we are competing with one of the best teams in the area is good to know. It's fun, but it's more fun when you win," he said.
Lenape's leading three-point shooter Shannon Mulroy said, "we didn't bring the energy, we let Cherokee set the tone", which was one of their setbacks early in the game.
With a rematch later in the season, there is no telling what the heat of the competition will bring out in both of the teams. Cherokee plays their next game at Paul IV High School at 1 PM on December 27 against Sterling High School.