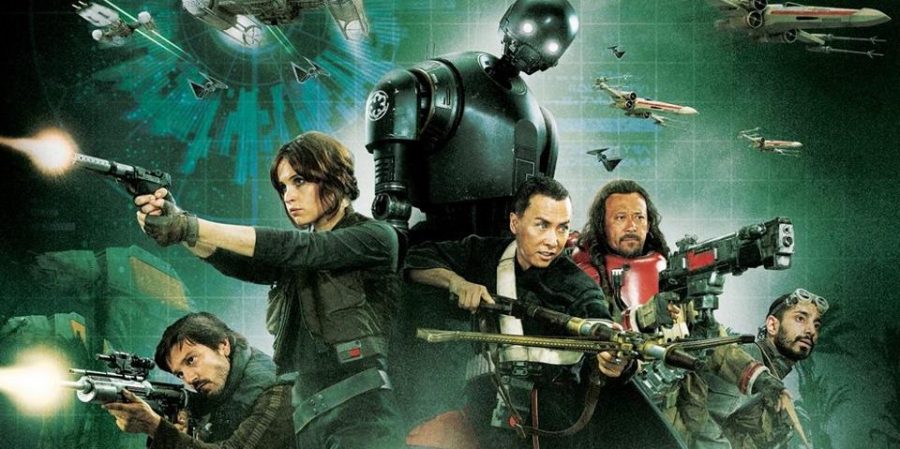 Disney
Critics have called Rogue One well-crafted, thoughtful, cutting-edge, and nostalgic. Rogue One proves that the endless galaxy far, far away is able to expand even further.  The new Star Wars movie takes place between the timelines of Revenge of the Sith and A New Hope. Scientist Galen Erso, played by Mads Mikkelsen, is forced to design the Death Star and is later snatched out of retirement by Imperial officer Krennic, leaving Galen's daughter Jyn an orphan. Jyn, played by Felicity Jones, is then recruited by rebel spy Cassian Andor to uncover a means to subdue the Death Star, which has the power to destroy planets. In times of struggle, a band of unlikely heroes comes together to steal the plans for the Death Star.
Many new and diverse characters play large roles in the movie. These different characters include a battle-ready Rebel soldier, an experienced intelligence officer, a blind and force-loving monk, a former imperial cargo pilot, and of course a witty, sarcastic droid K-2SO (similar to C-3PO) who provides much needed comic relief in the movie. Some embellishments in the movie, such as Darth Vader, C-3PO and R2-D2, were happily consumed by audiences. The light-hearted comic relief by these characters works well against the backdrop of the main theme of this film, the brutal tragedy of war.
Director Gareth Edwards was faced with a very difficult task with this movie because he had to accurately depict parts of the series that were already assumed and he had to execute an anticipated ending. Many fans believe that the movie was the missing part they had hoped and longed for. The filmmakers were able to seamlessly incorporate the settings of the previous movies. Rogue One  also solves the ambiguity of Leia's acquisition of the Death Star plans in A New Hope.  Despite the difficulty of this assignment, Rogue One was anything but a disappointment to Star Wars fans everywhere.
Personally, I thought Rogue One was fantastic. Every aspect of it, from the setting to the acting to the script, fit the movie perfectly. Like audiences all around, I thoroughly enjoyed the cameos made by old characters. The movie was very well done and I was completely satisfied with what the movie brought to the Star Wars galaxy. The saga continues to astonish and impress fans all around.