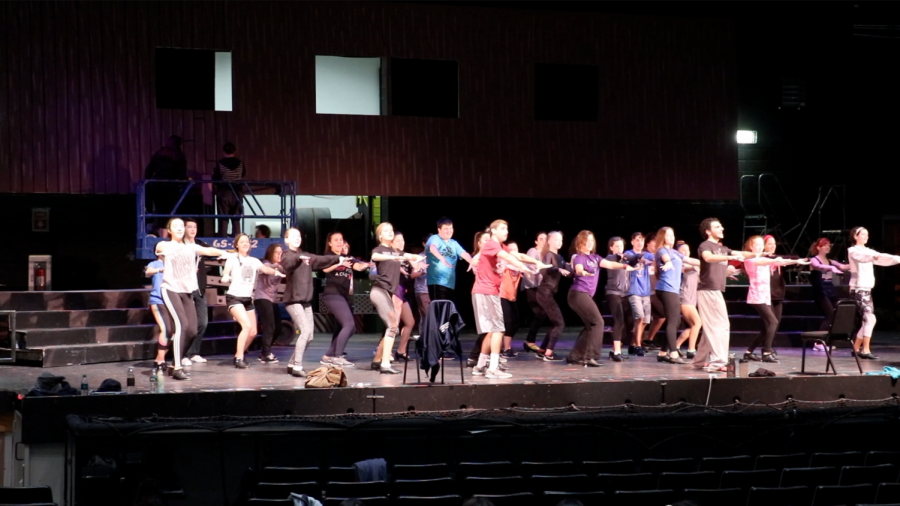 Chiefs TV
Love, comedy, and the promise of snow: the perfect combination for a holiday story. This year, Cherokee High School performed Irving Berlin's White Christmas as its fall show. It was the ideal play to get ready for the holiday season.
The plot of the play was simple, which made it easy to follow. Former-army-comrades-turned-performers Bob Wallace, played by senior Jake Liguori, and Phil Davis, played by senior Brandon Ashe, followed budding performers Betty and Judy Haynes, played by senior Hannah Chiappine and junior Casey Curcio, respectively, to Vermont to perform a show, only to realize that there is no snow because of a heat wave. To make matters worse, the inn that they were preforming and lodging at, owned by the formers' ex-commander, General Waverly, was failing financially. The four worked together to help the general, played by junior Ryan Fanelli, save his inn.
This play had something for everybody: a love story for those who enjoy romance, comedy for those looking for a good laugh, and drama for those who like to get emotional. A crowd favorite was farmhand Ezekiel Foster, played by senior Garrett Clark, who was the comic relief. Every time he walked onto the stage, he managed to make people laugh. There were some sad scenes as well, such as when Waverly got rejected from the army. The romance between Bob and Betty was classic. When they first met, they loathed each other; Betty saw Bob as a cynical and immoral person. Eventually, they fell in love and celebrated the holidays together. Overall, the play managed to make the audience feel a wide range of emotions.
The cast dedicated many hours of work to put this production together and their hard work paid off. Everything from the sets to the costumes was amazing. The singing was magical, filling me  with holiday cheer and happy spirits, as well as nostalgic feelings.  It reminded me of the many seniors from last year who played lead roles in these plays. After witnessing this musical, I have no doubt that the current seniors properly filled their predecessors' shoes. They all executed their parts wonderfully.
I would recommend this play to all those looking for a fun holiday story. After the play ended, I felt ready for the holiday season. The ending brought a sense of content and happiness. The audience left the auditorium with smiles on their faces. This was one of my favorite plays performed at Cherokee.
The next production will take place in the spring, starting the weekend after Mother's Day. The spring show, which was announced on the Sunday after closing night of White Christmas, will be Beauty and the Beast. I am excited to see how the students in the Cherokee theater program will bring this well-loved story to life on stage.
5/5 Feathers