Cherokee Falls To Lenape In Homecoming Game
In its annual homecoming football game, Cherokee's varsity team suffered a defeat against that of Lenape's by a score of 21 to 14 last Friday evening in the stadium. Lenape's victory was largely due to its dominance of the ground game, led by senior quarterback Matt Lajoie, and senior running back JoJo Kellum, who both combined for a whopping 195 rushing yards and two rushing scores in the game.
The Cherokee Chiefs opened the scoring with a 28-yard touchdown pass from senior quarterback Jack Walters to senior wideout Tymere Bennett on their first play from scrimmage in the second quarter, followed by an extra point from senior kicker Ethan McCarren, which made it 7-0 Cherokee. Lenape soon retaliated, however, with a 67-yard screen pass from Lajoie to Kellum for a touchdown, followed by an extra point from junior kicker Stephen Mulville that sent the game into halftime tied at 7.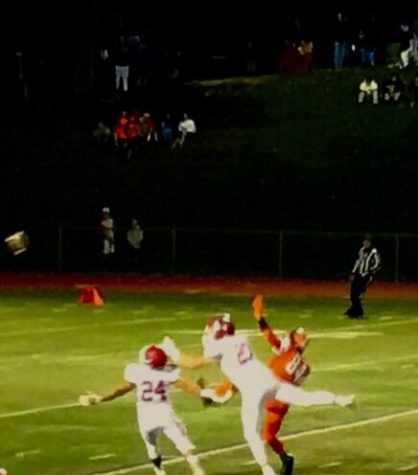 Lenape continued its onslaught in the second half, with rushing touchdowns from one yard out and six yards out from Lajoie and Kellum, respectively, that made it 21-7 Lenape entering the fourth quarter. Cherokee attempted a comeback later, after a 9-yard pass from Walters to junior Ryan Bassett that drew the Chiefs within seven, but Lenape's rushing attack proved too strong for the Chiefs' defense to handle, as the Indians were able to drain the rest of the clock after Bassett's score to secure the 21-14 victory.
The Chiefs had some timely defensive plays from seniors Andrew Cardinali, who made multiple tackles for a loss, and Devin Ibarrondo, who contributed a second half interception for Cherokee, as well as another superb effort by Walters, who threw for 188 yards and two scores and ran for another 33 yards. Ultimately, however, Lenape's offensive line's consistent edge-setting prevented the Chiefs from finding an answer to the combination of Kellum and Lajoie. Lenape's win pushes their record to 6-1 ahead of their home tilt next Friday at 7 p.m. against Notre Dame. The Chiefs' loss moves their record to 5-2 on the season, and they will look to return to their winning ways at home next Saturday at 3 p.m. against Williamstown.